---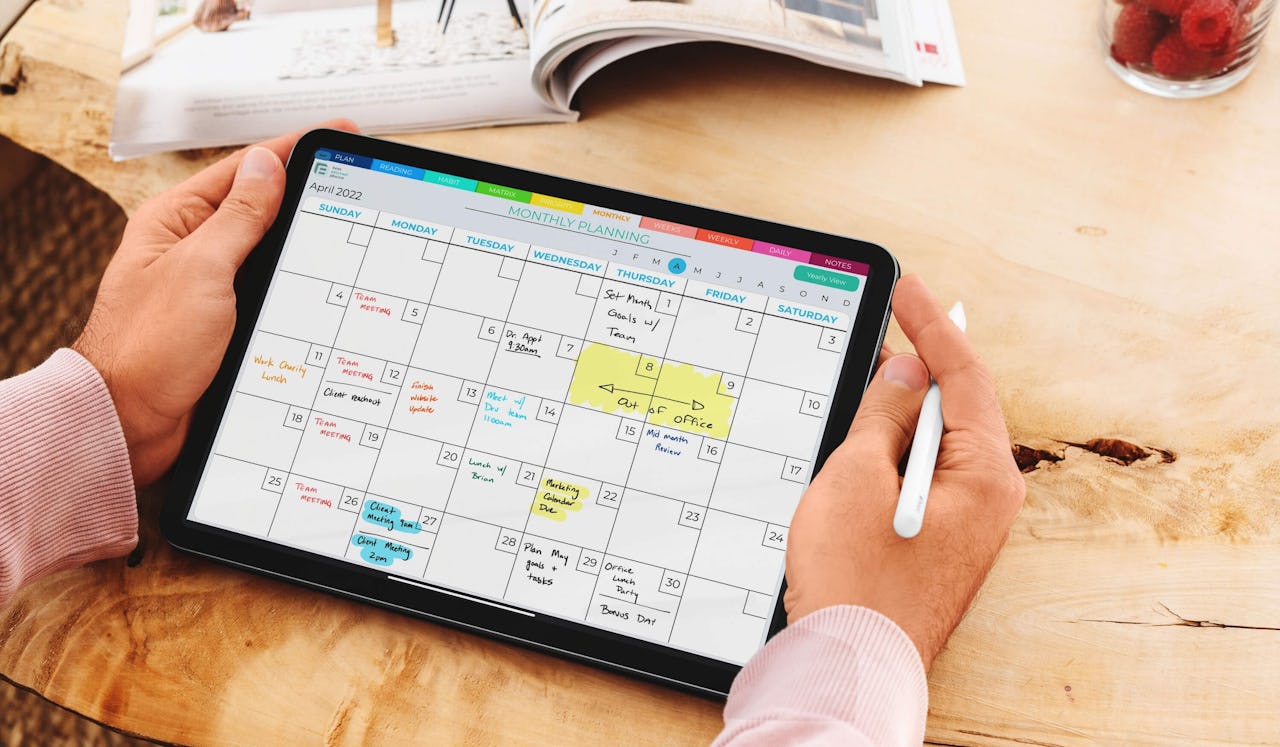 Digital Planner 101: A Beginners Guide to Electronic Personal Planners
August 19, 2021 • 5 min read
Digital Planner - What exactly is it?
You may be asking yourself, what is a digital planner? The best way to describe it is an electronic organizer planner that marries the pen and paper experience on a tablet. So you get the feeling of writing like a normal planner but additional benefits of being digital.
If you have a tablet with a stylus, you may be familiar with the writing ability of them. For example, if you use an iPad and Apple Pencil, paired with an annotation app like GoodNotes, you can write your notes right on your tablet like it's a paper notebook.
Sounds cool, right? 
Well it gets even better when you add a digital planner like ours. You simply import the PDF planner into the annotation app, such as GoodNotes, and you can write on your planner with ease. So it's like a pen and paper planner right on your tablet.
All of our digital planners include tab navigation and hyperlinks. You can jump around to the different sections. If there is a page that you need to bookmark or save, you can add it to the bookmark menu and easily access it.
What Digital Planners are not...
We want to take away as much of the confusion as possible so it's important to give the details now. Digital planners are a new thing for a lot of people and we want to help you enjoy yours as fast as possible.
Digital planners are not a standalone app. When you purchase the planner, the app is not included. That is, you purchase a PDF digital planner like ours and then use them with an annotation app, we'll discuss those more later.
It's also not its own tablet. When you purchase the PDF planner, on a tablet or your choosing, either an iPad or Android device, you install the annotation app and use a stylus to write like pen and paper. 
It's also not a physical product. The purchased planner is a digital PDF file that you get instant download access to. Once you purchase, you download it and import it into your annotation app to get started.
What do you need for digital planning?
To get started, you will need a few items. 
Tablet - Either Apple iPad or Android tablet. Other devices may work but there will be limitations on what you can do.
Annotation app - This is where you do all the planning. It allows you to write and edit the PDF planners. You can download them directly from the Apple and Google app stores.
Stylus - The planners work like pen and paper. So, you need a stylus to write.
Keyboard (optional) - While the main purpose is to write on it like pen and paper, you can add your own text boxes and use either the on-screen keyboard or a physical keyboard to type
PDF Digital Planner - This is where all the planning happens! We'll show you more later but Boss Personal Planner offers different planners for all of your needs.
That's all you need. Once you have those items, you can get started with your digital planner.
Benefits of Digital Planning
We gave you a quick overview of digital planners but let's go into a bit more detail on what all the benefits are.
You can have multiple planners on one device. For example, maybe you have a personal planner, budget planner, and business planner. Instead of 3 big notebooks to carry, all 3 are on your small tablet.
With undated planners, there is no need to rebuy the planner, you can use it again and again. At the end of the year, just import a fresh version for the following year.
When you make an error, it's easy to erase without ruining paper pages.
Moving text around is quick and easy. Grab and move features are just another way to deal with mistakes.
If you need to create another version of a page, you just select it and duplicate it. You can add or remove pages however you need.
The apps give you a nearly limitless number of colors and pen styles to write with, and you don't need to actually carry additional writing instruments. 
Hyperlinks let you navigate to pages easily. If a page doesn't have a hyperlink to it, you can easily bookmark it and view it quickly or use the apps navigation tools.
Less paper clutter and you don't have to worry about ruining expensive paper planners.
Make more use with your tablet or iPad as an electronic planner.
As you can see, there are a lot of benefits of using a digital planner. There are probably more but that is all we could come up with for now.
When you look at this list, you can decide for yourself if digital planning is for you. Does an electronic planner sound nice to you?
Digital Planners for iPad
By far the most popular device to use a digital planner is an iPad with an Apple Pencil. Just to note, it's not limited to iPads only but that seems to be a very popular setup.
One of the main benefits of using an iPad for your digital planners is that they are just so smooth and simple to use. As many people know, Apple is known for their beautiful software and ease of use. So naturally, this makes it a great tool for digital planning.
With that, the Apple Pencil is the best stylus you can get. Since it is made by Apple, you get a high quality stylus but it will be the most expensive option. They have 2 generation versions and which one you get depends on what kind of iPad you have, prices range from about $100 to $130.
Luckily, there are some other options that are cheaper and still provide a great experience. 
Our second favorite option is the Logitech Crayon. At around $70, it is much cheaper than the Apple Pencil but provides nearly identical performance. (Sometimes it goes on sale on Amazon for as low as $50)
If these options are still too expensive, you can get a stylus on Amazon for even cheaper. Be sure to read the reviews to find a good one. Some don't work as well but there are some that work awesome for very reasonable prices.
Also, there are a number of high quality apps available to use. We'll discuss the apps in more detail in a bit but the app is very important for digital planning. It's what gives you a lot of the features and abilities while using it.
Digital Planners for Android
Many people use Android devices so we want to make sure we don't leave them out. For Android devices, the concept of digital planners is the same. You need a tablet, stylus, and annotation app.
The items and apps you use are different though. Some of the Android tablets will already come with the stylus. If they don't you can pick up an S Pen to use with it. The S Pen typically costs about $40.
As with iPads, you'll also need to get an annotation app. Unfortunately the number of available apps for this are limited on Android but there are still a couple of great options and we'll give you those in the next section.
Digital Planner App
As we have talked about a few times, the digital planner requires an annotation app to use it. While the actual digital planner is the heart of  your planning, the app is the brain. It's what gives you so much freedom with the planner.
So, depending on if you are using an iPad or Android, you have several options on what apps to use.
Being up front with you, when it comes to iOS and iPads, the best apps are typically paid. The good news is they are one time payments and not a monthly subscription, once you buy it, it's yours. Also, they are typically only in the $5-9 range.
iOS Apps
Android Apps
We placed the apps in order of how we recommend them. For iPad planning we suggest going with GoodNotes but if you want something that is free, ZoomNotes Lite is a great option.
On Android, the options are much more limited. Xodo is luckily free and the app we suggest.
Using GoodNotes for Digital Planning on iPads
Most of the time, when you see anything about digital planners it will be on an iPad with GoodNotes. Like I mentioned before, that doesn't mean you are limited to those but it is by far the most popular setup. 
GoodNotes is a very popular option because the app is so powerful. The writing feature is very accurate meaning the way you write is the way it will show up. They also have a lot of options for customizing the pen to be different staples, thicknesses and colors.
It's very easy to import your digital planner so you can quickly get setup and started. 
Another huge benefit of GoodNotes is that it allows you to sync across your Apple devices (Mac, iPhone, and iPad). This is huge for many people who use digital planners. One thing to note, you will have limited abilities on the different apps. For example, since you write on the iPad with a stylus, you won't be able to write on your iPhone or Mac.
As you can see from the list above, GoodNotes is not the only app available for the iPad for digital planning. You can use any of the others but from our experience, GoodNotes gives you the most flexibility while being the easiest to use. 
Best Digital Planners for You
One of the great things about digital planners is that there are so many options. You can have a planner for whatever part of your life you need. 
Here are all the digital planners that we offer at Boss Personal Planner:
Remember how we said one of the benefits of digital planners is that you can have multiple planners all on one device? You can literally have 2, 3, 4 or more planners and they will all be right at your fingertips.
Which planner or planners will work best for you depends on what you are trying to work on in your life. Our general personal planner is a great tool for life planning and figuring out your big life goals along with the smaller goals to get you there.
If you want to improve your personal finances, our budget planner gives you all the tools and metrics to track to improve your money situation. From your budget, to daily spending, savings, debt repayment, and much more. You can move your personal finance needle hundreds or thousands a month in a positive direction with our planner.
Looking to start a side business or already running a business? Our business planner is perfect. People spend too much time on "fancy" business plans when they aren't really needed. Yes, you need to have a plan for your business but it doesn't need to be a big corporate style plan. We've included the basics and necessities to get you moving and start or grow your business.
Want to Learn More About Digital Planners?