Regular price
Sale price
€19,95
Unit price
per
Sale
Sold out
The best daily planners
Life is busy, but with the Compact Daily Planner you'll find that you can manage all of your time better.
This planner notebook is designed with a minimalistic layout that's simple and easy to understand. With monthly, weekly, and daily views, planning your day is simple and straightforward.
This planner will help you get more done in less time, so you can focus on the things that are most important to you
Plan for Success has all the tools you need to stay on top of your life, effortlessly.

With Habit Tracker and Eisenhower Matrix, you'll know exactly what activities to do each day and where to spend your time.

Monthly Planner and Weekly Planner with your daily and weekly goals will guide you through the month or week.

The priority planner will help you find what's important and help you stick to it.

The daily planner helps you keep track of everything that comes up during the day so that nothing slips through the
Set personal goals
It's all about your goals. Both short and long term.
Start big by looking at your life, 5 year, and yearly goals. This helps guide you when you look at what you need to do each day.
Then, it's all about breaking them down, into daily, weekly and monthly goals.
Goal setting is all about creating a system, and we have created that system in this planner.
Manage your tasks and long term goals
Creating simple to do lists is not always effective. When you create a to do list, you need to think about your life goals.

That's why our productivity system doesn't just focus on the daily tasks but instead, it looks at your long term goals and breaks them down into smaller, more manageable tasks.
So as your complete your to dos, you'll slowly be chipping away at the big goals in your life.
It's an extremely effective system.
Track projects
Whether it's personal or professional you can track all of your projects.
Set the priorities of each project and make it easier to see what you need to work on first.
A simple system to help you knock out each project one by one without getting spread too thin.
Easy habit tracking
Good habits are the cornerstone of happiness and success. At the same time, bad habits will stop you in your tracks.
That is why it's so important to work on your habits.
By tracking your habits and focusing on them each day, you're more likely to be successful at improving your habits.
Stay organized and focused
When you don't have a plan, it's tough to stay focused and be organized.
This kills your productivity.
When you have a plan in front of you, you know what to do and work on next. Otherwise, it's easy to get distracted and do things you're not supposed to like browse social media or watch Netflix.
So when you create a great plan, it's easier staying organized and remaining focused.
Create to do lists and take day to day notes
To do lists are an important part of any action plan but, they need to be created correctly. It's not just about crossing things off.
They need to have your bigger goals in mind. You want to make sure that your to do lists will get you closer to what you really want.
At the same time, you need to be able to take notes and jot things down. One thing that slows us down is trying to remember things.
Whether it's what you need to do next or the great idea you had earlier.
These are elements that we include in our daily section that make it so effective.
Don't be rushed because it's an undated planner
We understand the struggle of a dated planner, when you buy it, you have to use it during those dates or else it's wasted.
But that isn't how a lot of people plan. They either stop using it for a while or switch between different journals.
The good thing with our planner is if you stop using it for a while, you can come back to it.
We've even included extra elements like monthly calendars, weekly planner, and daily planner so if you skip half a month, you have room to add more months.
This planner is a three month planner so we want to make sure you can get a full three months from it and not waste your money.
Stay motivated in the year ahead
It's all about the wins, daily wins, weekly wins, monthly wins, etc.
When you accomplish all the little goals, you'll start achieving the bigger goals.
It's a snowball effect that will make you feel more and more motivated.

When this happens, it'll become an exponential effect that leads to more and bigger goals being accomplished.
Planner sections:
Life Planner (Plan for Success)
Habit Tracker
Eisenhower Matrix
Priority Planner
Monthly Planner
Weekly Planner (2 sections)
Daily Planning
Notes Pages
How to make it a customizable planner
There are a few ways that you can customize your planner. With the blank note pages in the back, you can create whatever you want. If you create templates or sections that you need.
Also, with the daily section, one side is for your to dos and scheduling but one page is nearly entirely blank. With this, you can again create your own template or sections to plan how you want.
These sections give you the freedom to add whatever you need to have the perfect planning notebook.
A great option for daily planners
Let's stay focused for one full year and see what happens. Get yours today.
This is the undated planner that you'll love, it's the best daily planner for staying organized because its not just about to dos, it's a productivity system.
Visit our stationery store to get your new planner at a great affordable price!
*We're liquidating all paper notebooks
We've recently decided to liquidate our paper notebook supply. With changes in the world and economy, along with our business, we're putting our focus on the digital side of our business.
With that, we are getting rid of the remaining inventory we have. All paper notebooks are marked down and all sales are final. We do not accept refunds but in the event that your notebook arrives damaged, please contact our support team with a picture of the damaged product and we will ship out a replacement at no charge to you.
Planner Specs

3 months of planning
Spiral Planners:
8.375" x 5.875" (6.375" with spiral)
PU and Cloth Planners:
5.75" x 8.375"
Refund Policy

We are liquidating our paper planners and all sales are final. If you purchase a paper planner and it is damaged or defective, please contact our support team to have it replaced.

Please feel free to contact us with any questions or concerns prior to your purchase.
Share
View full details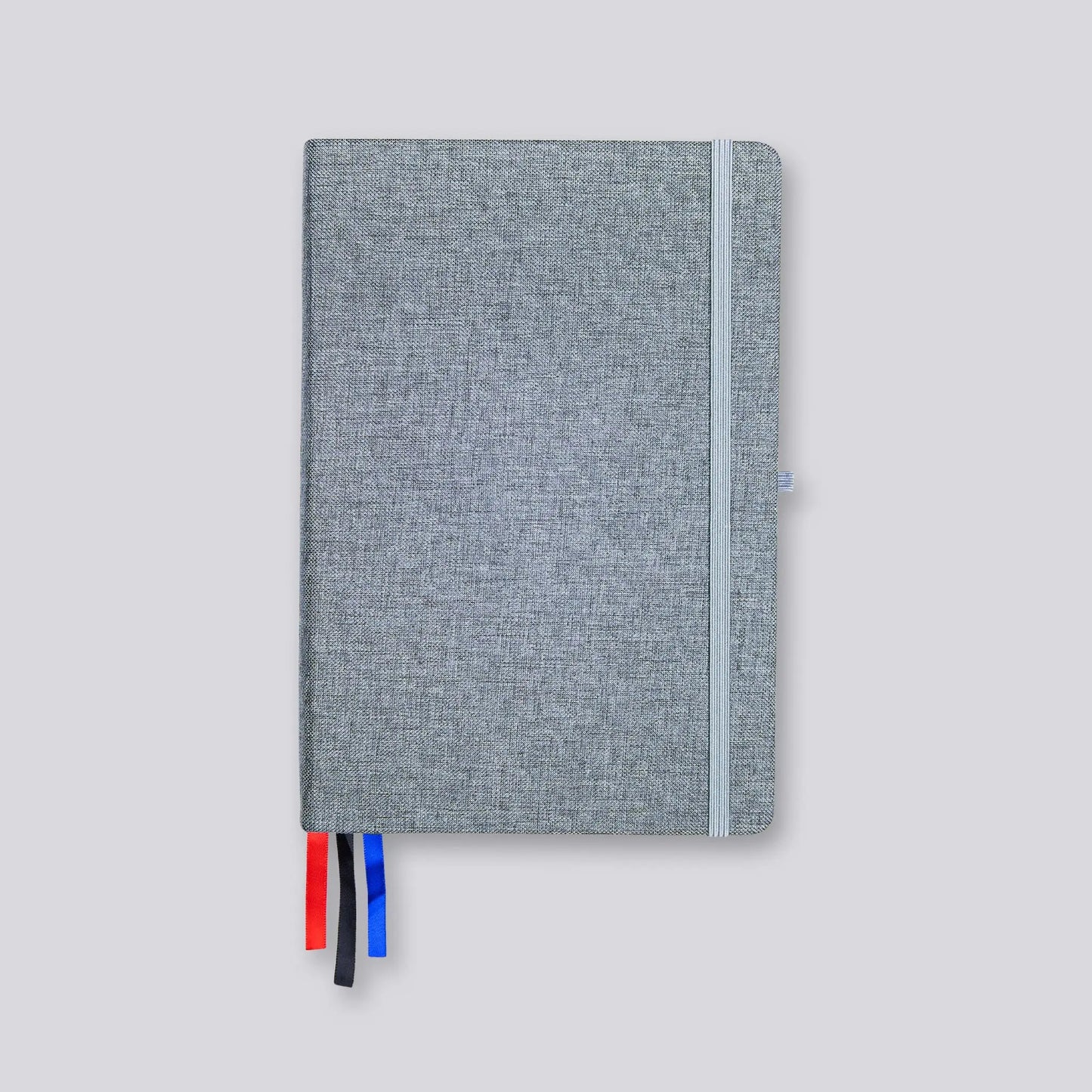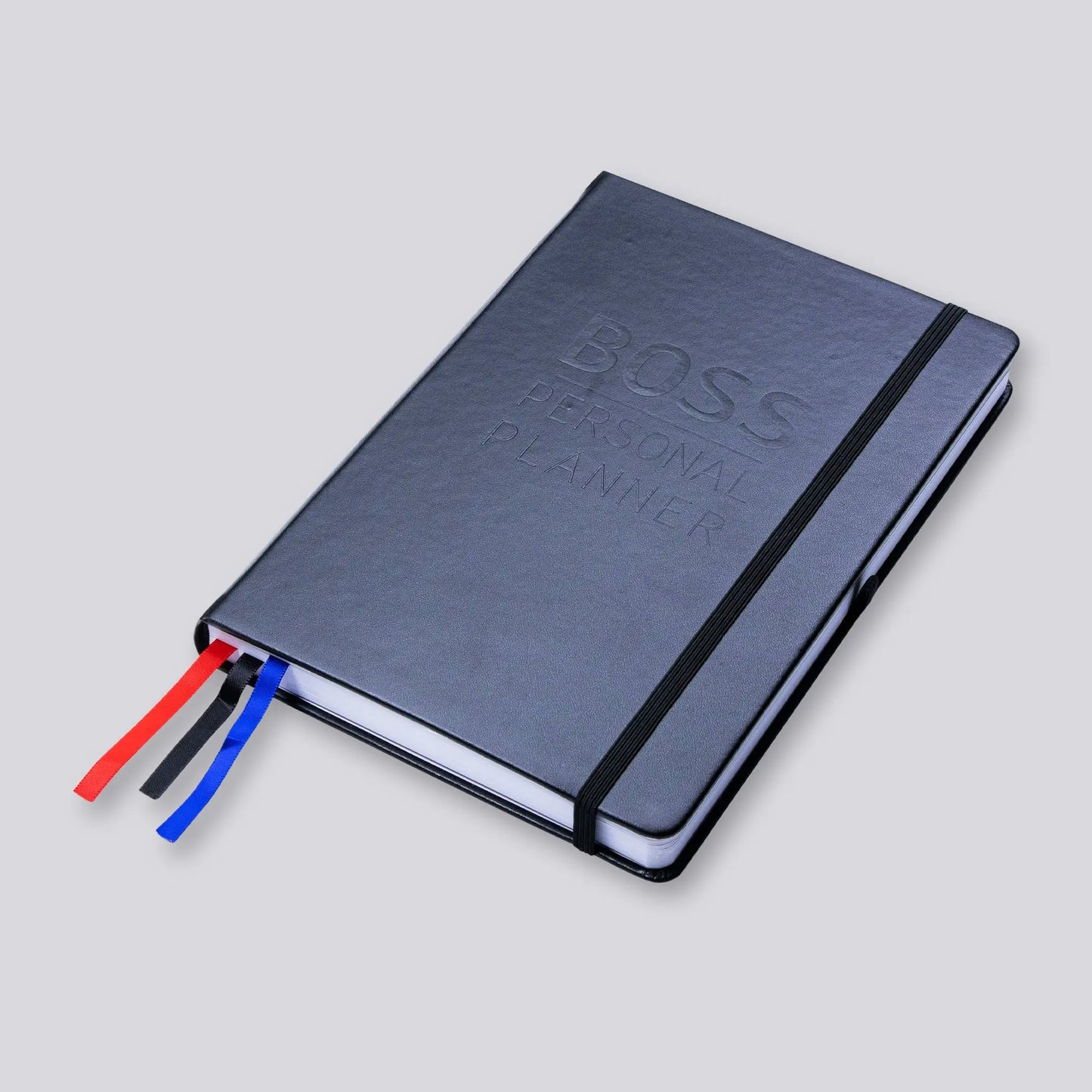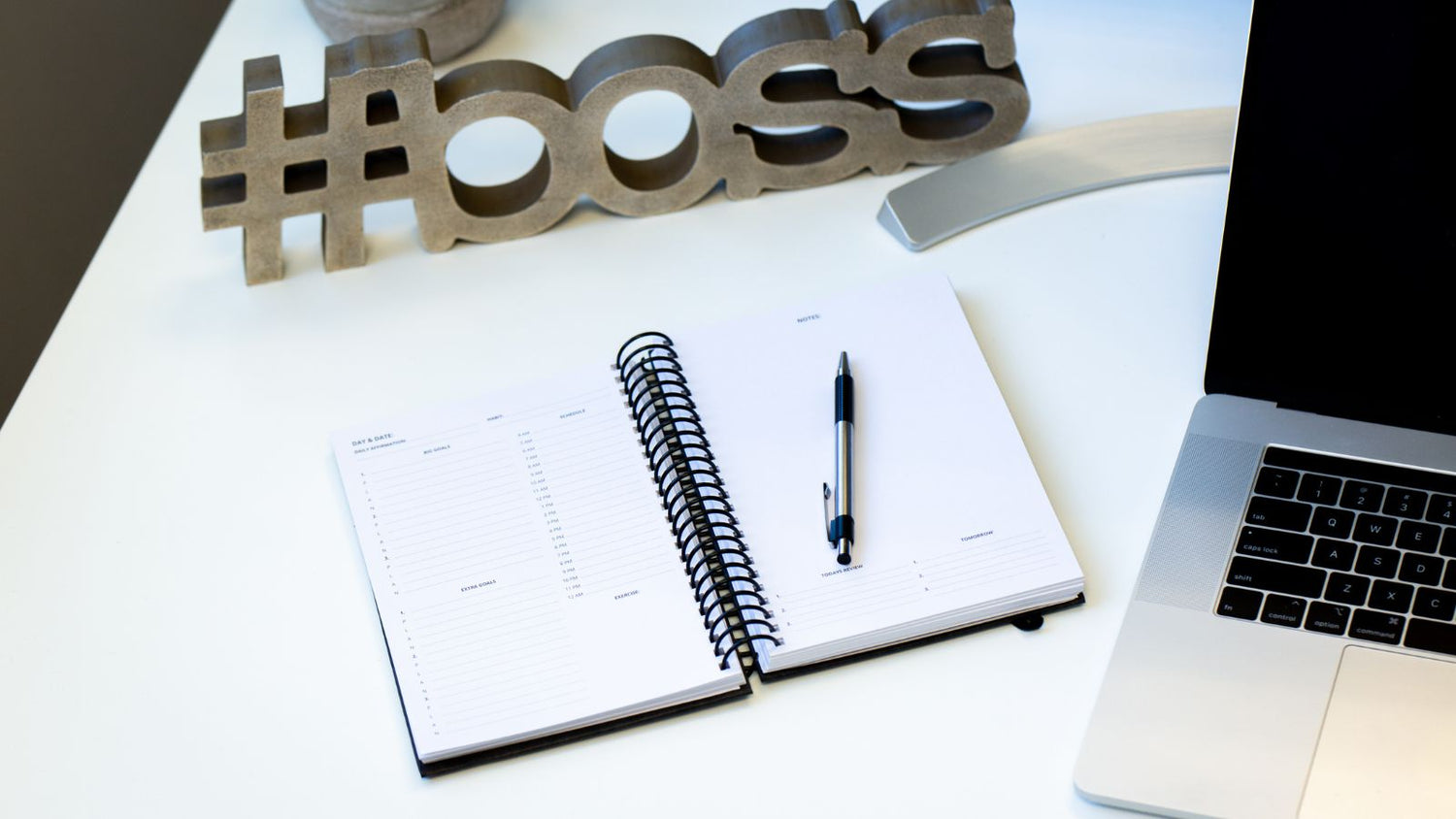 Better Time Management
Stay organized and manage your goals and tasks more effectively. Good planning is the key to good time management. The Boss Personal Planner includes everything you need to be a better planner.