If you aren't already using a digital planner with an iPad, you're missing out. Don't worry, we're about to give you 9 reasons why you should start.
Before we get into it, whether it's for personal use, professional, or business, a good planner can improve your life drastically.
It can help;
Organize tasks, events, and projects
Track important aspects such as money, fitness journey, and goals
Schedule tasks and events daily, weekly, or monthly
Keep notes to avoid forgetting important thoughts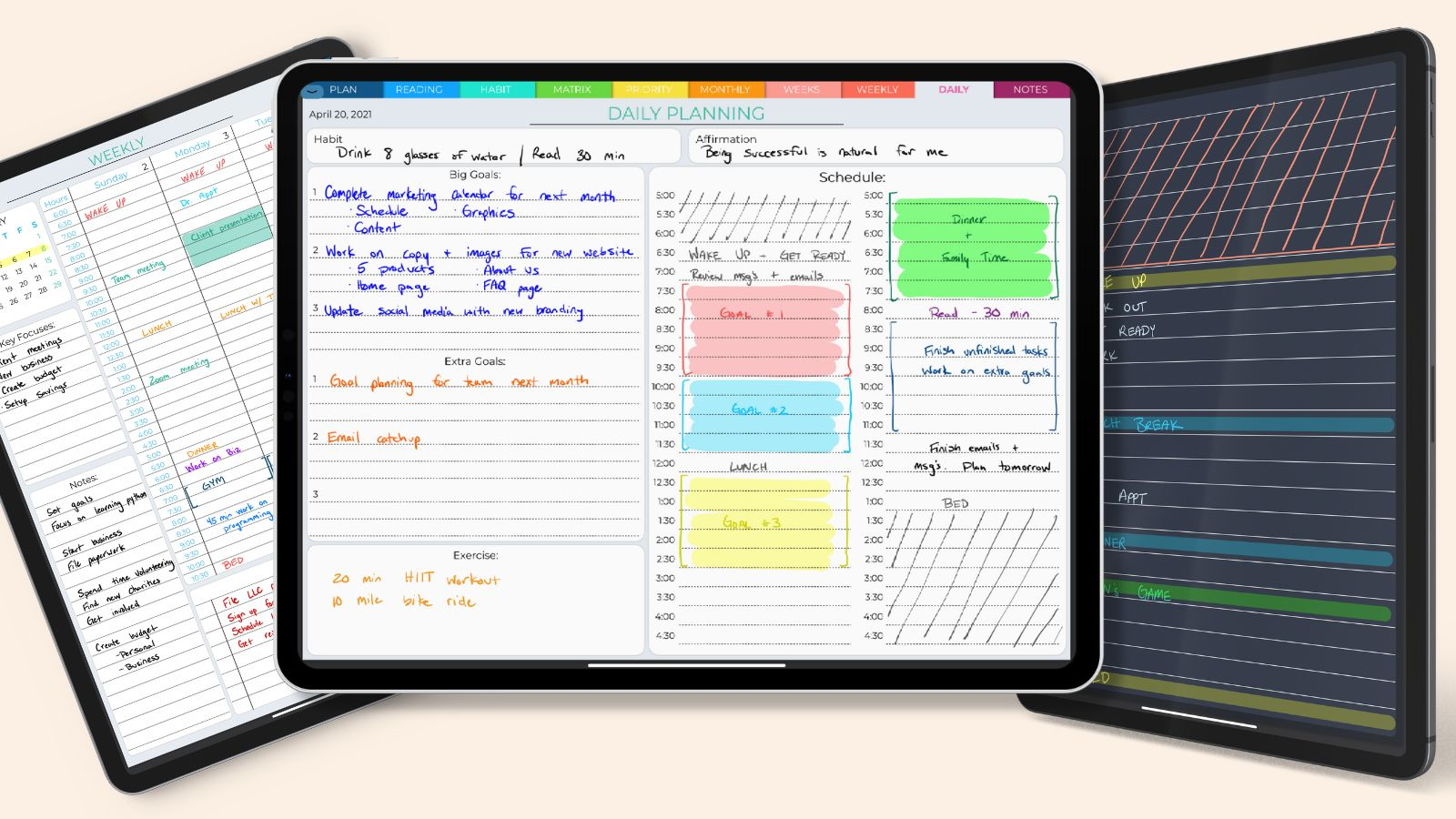 1) You're already using your iPad
You're already carrying around and using your iPad. Using it for digital planning will be one more use for it and one less thing to carry around.
All you need in addition to your iPad is a stylus and PDF markup app such as GoodNotes or Notability.
2) You don't have to carry extra notebooks
Like we mentioned above, you're already carrying around your iPad so when you use your iPad for digital planning, you don't have to worry about carrying around extra planners.
With them, when you want to have multiple digital planners, they all fit on the memory of your iPad.
You can have 100 different digital planners on your iPad and you don't have to carry anything extra around.
This is especially useful because we offer so many different planners to cover the different aspects of your life.
3) Easy to customize
We have personal planners that are build specifically to be customized. You can create any template you want.
By either using the inserts elements that come with the customizable planner, or purchasing additional ones, or even creating your own, you can build whatever you want.
The base planner still gives you sections and links to help easily navigate around, but all the pages are blank so you can build exact what you want.
Even with our non customizable digital planners, you can add things like digital stickers to make it fit you. Digital stickers are a fun way to customize your planner or use them to organize or color code your planner.
Once you create your templates, you can duplicate them as many times as you want.
4) Increase your productivity
By creating a plan and following it, you'll quickly become more productive.
Most people struggle with productivity because they don't have a plan. They just do things on the fly, no planning for preparation.
Our planners are specifically built to help you be more productive, they are more than just to do lists.
They are a system to help you figure out your goals, break them down, build a plan, and execute the plan.
With consistency, you'll be accomplishing more than you ever have.
5) Lots of tools available
With PDF markup apps such as GoodNotes and notability, you have tons of tools built in to help you plan and organize.
From pen options, highlighters, colors, shapes, stickers, images, and so much more, you have a powerful tool in your hand.
One of the best part is that you don't need anything other than your stylus to use these tools. Just select the tool in the app and use it, it's that easy.
Color coding with all the colors.
Add images or stickers by drag and dropping
Erase writing with no marks left behind
Move writing around the page
Copy and duplicate pages with the tap of a button
Delete pages as you need to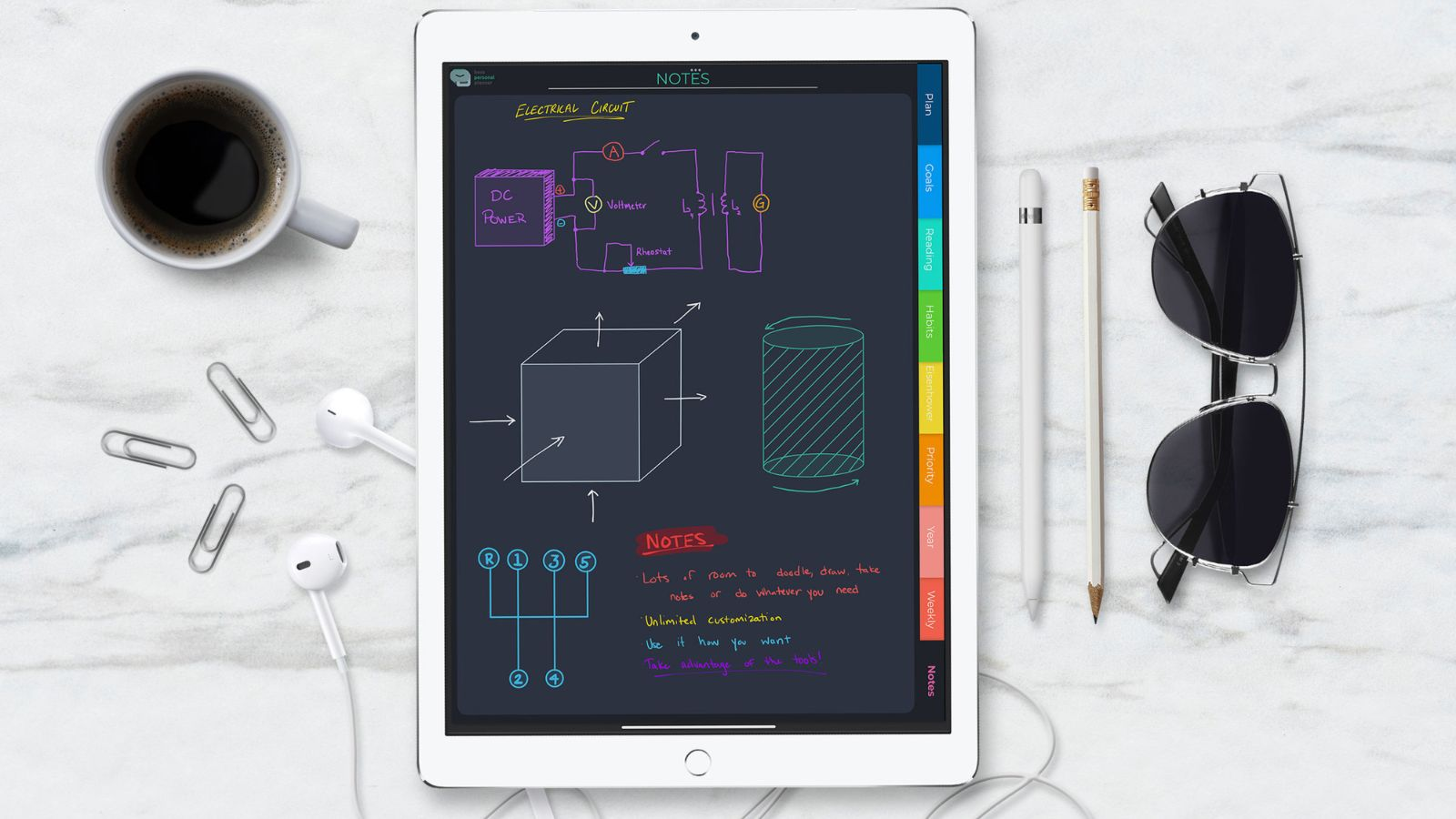 6) Plenty of room for note taking
How many personal planners have you used where there just wasn't enough room for notes.
Even when we created our paper planners, we added as much room for note taking as we could but you're limited because of the size of the notebook.
With a digital planner, you basically have an unlimited amount of space for note taking. Need a new page, just add it. Do it as many times as you need.
Want the note taking page to be after a certain planner page, just move it to that location. It's super easy.
7) Many different digital planners available
As we mentioned, you build a ton of different planner styles. No matter what kind you need, we have it.
Our digital planner template options
Daily Planner
Weekly Planner
Life Planner: 3-in-1 Combo
Budget Planner
Fitness Planner
Business Planner
Teacher Planner
Student Planner
100 Day Planner
Gratitude Journal
Bullet Journal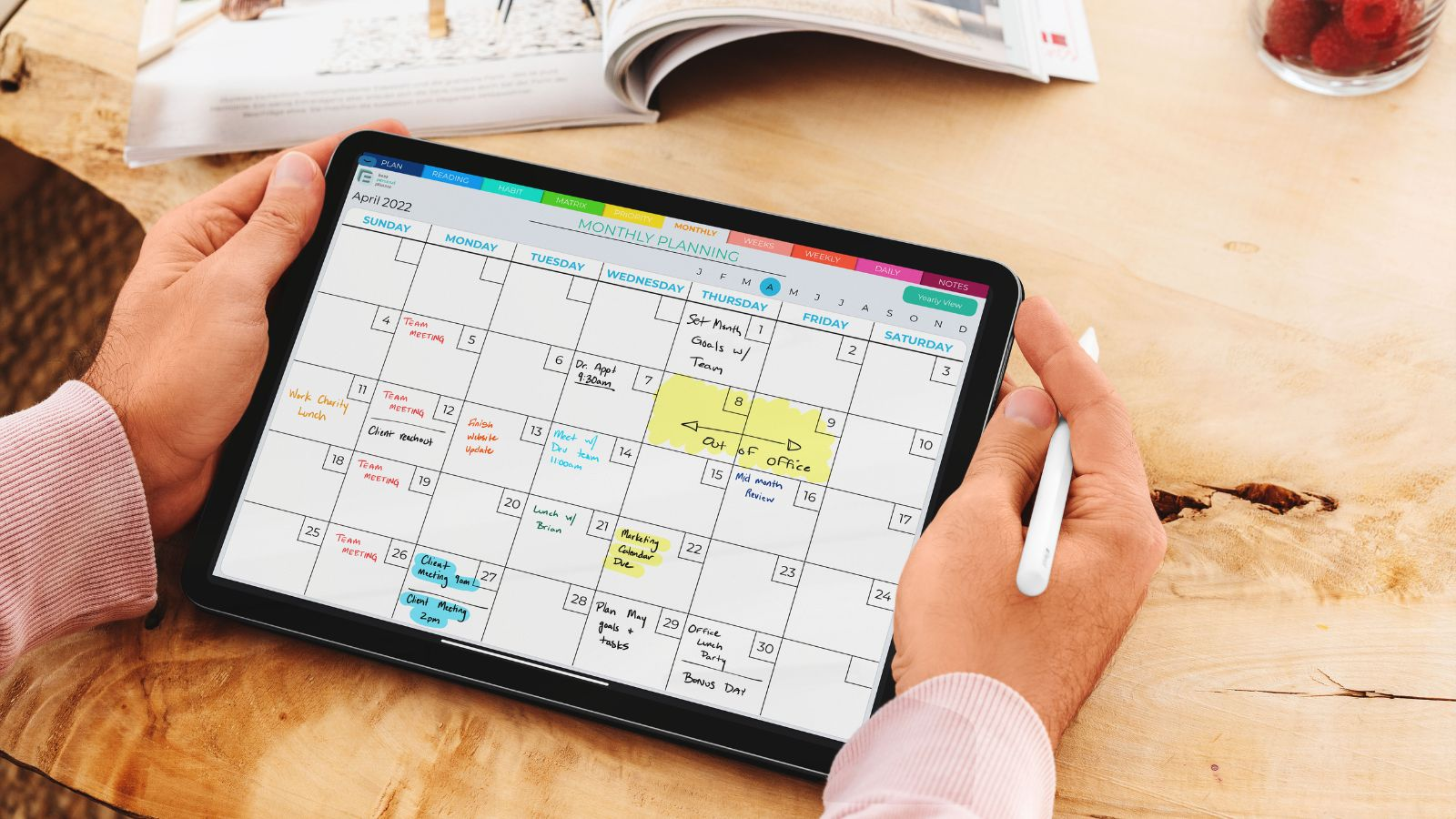 8) The ability to reuse your planner over and over
Have you ever reused a paper planner? I didn't think so. No matter what, with paper planners you have to get a new one when you're done. Whether it's dated or undated.
With any digital planner that is undated, you have the ability to reuse them over and over, year after year.
Even our yearly planners have undated options so you can reuse them.
When you're ready, just duplicate the planner or open it again as a new digital planner.
9) Instant download, get started instantly
We've all grown to love 2 day shipping, but how about 2 second delivery?
As soon as you purchase your digital planner, you get the download link. The file you get is a PDF document.
Literally download it and get started instantly. No need to wait for it to show up in the mail.
Try a free digital planner
We want to see you get started with a new digital planner today so we have we're giving you our mini planner for free today.
It's a great tool to get started and experience digital planning. The mini planner gives you 4 planning sections.
The first section is for your goals. You can create up to 6 goals per page along with action plan items and a due date.
The next section of this digital planner is the priority planner. List all of your important tasks, their priority, and when they are due.
Next, we have the weekly templates. These are 2 page spreads with each day of the week and then an hourly schedule.
Lastly, there is a daily planning section where you can see if you like a daily planner. The daily planner section has goals, a to do list, daily schedule, note taking area, and a section for reflection.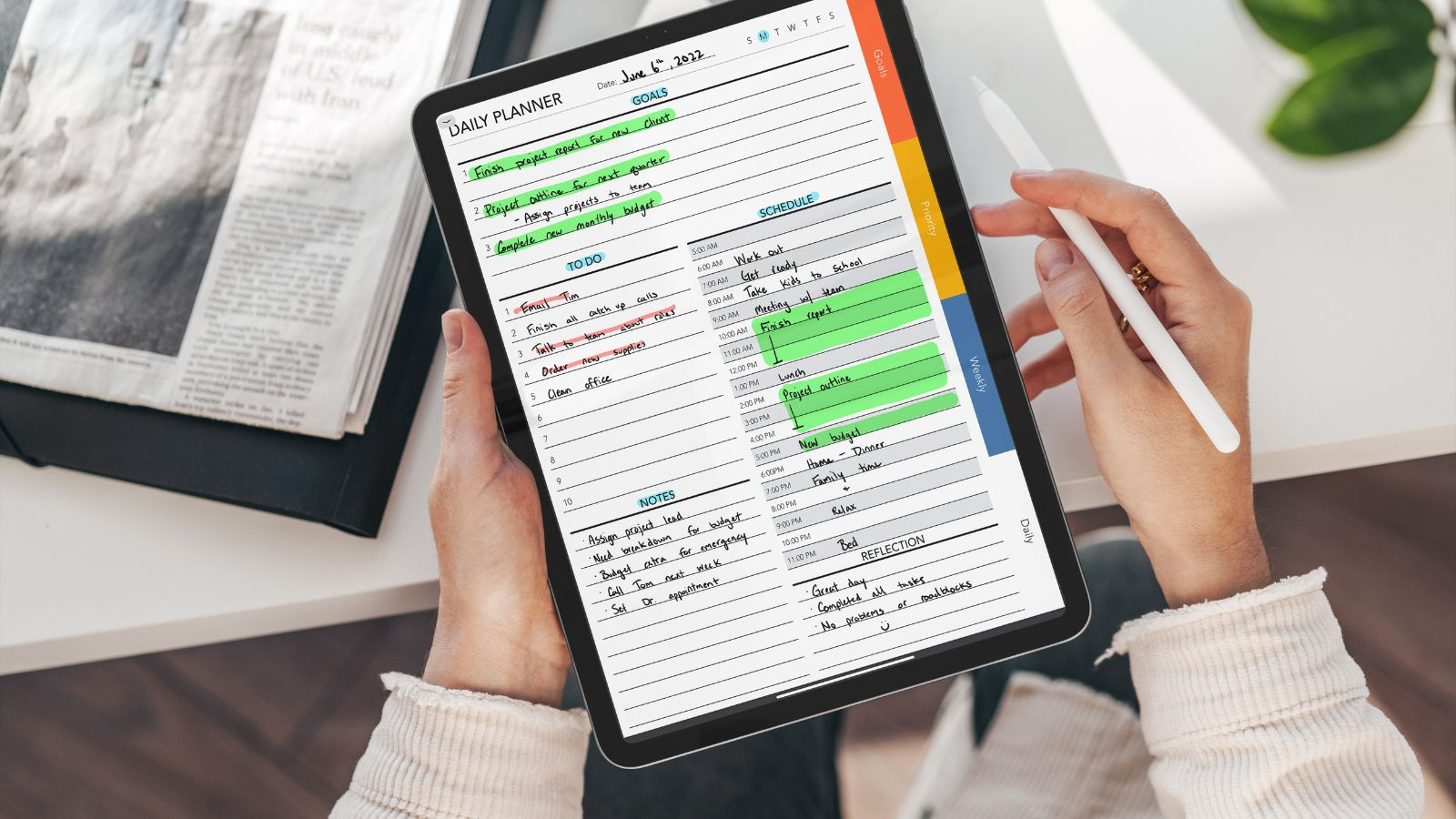 What do I need to get started?
It's very easy to get started digital planning on your iPad. Aside from your iPad, you only need a couple of things.
Stylus
PDF markup app, aka annotation app such as GoodNotes or Notability
Digital planner
That's it.
Once you have these items, you simply open the digital planner in GoodNotes or Notability (or any other PDF markup app you prefer) and start planning.
Does it matter what kind of iPad I have?
If your iPad is from 2016 or newer, depending on the model, it should work ok. The biggest factor is going to be compatibility with a stylus.
The most common stylus used is the Apple Pencil but you can also use other ones such as the Logitech Crayon or other brands available.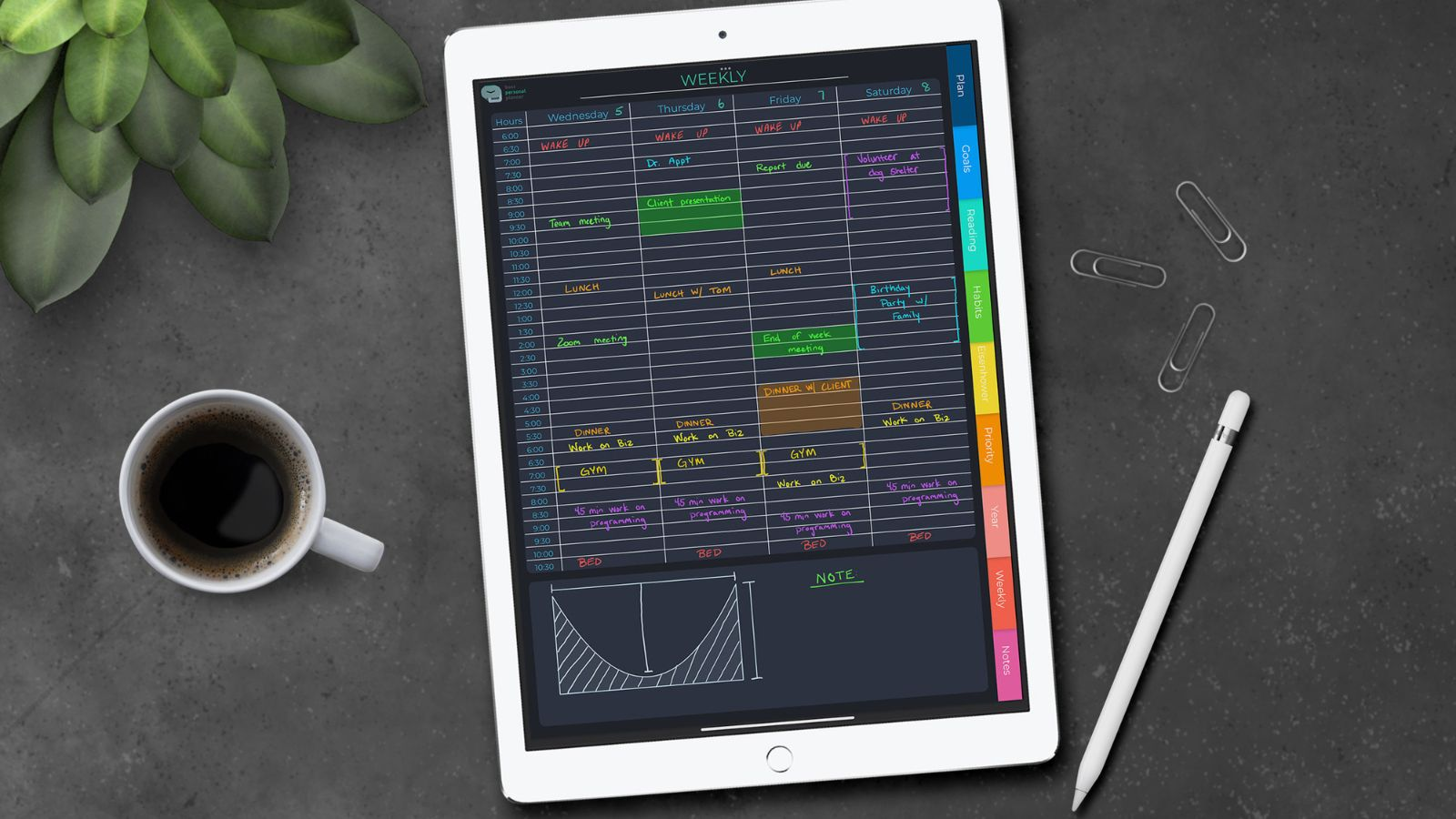 Original Apple Pencil
Charges using a Lightning connector, works with these iPads:
iPad (sixth, seventh, eighth, and ninth generations; released in 2018, 2019, 2020, and 2021)
iPad Pro 9.7-inch (released in 2016)
iPad Pro 10.5-inch (released in 2017)
iPad Pro 12.9-inch (first and second generations, released in 2015 and 2017)
iPad Air (third generation, released in 2019)
iPad mini (fifth generation, released in 2019)
Second-generation Apple Pencil
The newer version, released in 2018, is compatible with every iPad that has a USB-C charger instead of a Lightning charger:
iPad Pro 11-inch (first, second, and third generations; released in 2018, 2020, and 2021)
iPad Pro 12.9-inch (third, fourth, and fifth generations; released in 2018, 2020, and 2021)
iPad Air (fourth and fifth generations, released in 2020 and 2022)
iPad mini (sixth generation, released in 2021)
How do I get a digital planner on my iPad?
The first thing you need to do is purchase or download one of our digital planners, the free mini planner will work the same way.
After you download and save it to your tablet, you have to open it in the PDF markup app, such as GoodNotes or Notability.
To do this, locate the digital planner file, open it, click the "Share" button to give you the open menu, then you select to open it with GoodNotes, Notability, or whatever PDF markup app you choose.
It'll then open in the PDF markup app and you can start using your digital planner.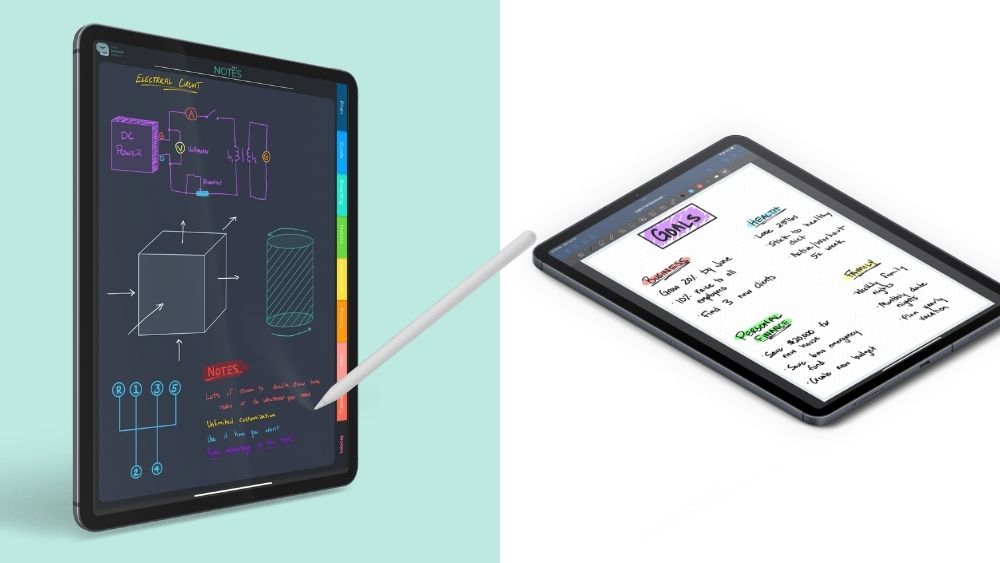 What app do you use for a digital planner?
You can use most PDF markup apps for your digital planner. When it comes to the full potential of digital planners, a good PDF markup app will be just as important as a good digital planner.
A lot of the features such pen styles, colors, and general ease of use come from within the PDF markup app. That is why for iPad, we suggest GoodNotes or Notability because they are the most popular and best ones.
*Digital planners are not limited to iPad's, they can also be used with an Android tablet but ease of use is better with iPad which is why we suggest it. If you have an Android, you can still use our digital planners.
What is a good digital planners to start?
All of our digital planners are easy to get started with but figuring out which one is for you is the best way.
A good place to start is with some of our most popular planners.
Our original and arguably one of our best digital planners, the daily planner is a great starter planner.
This digital planner can be used for either professional, personal, or business use. It covers daily, weekly, and monthly planning all in one.
There are plenty of productivity tools to help you get organized and plan your life.
Digital Daily Planner Sections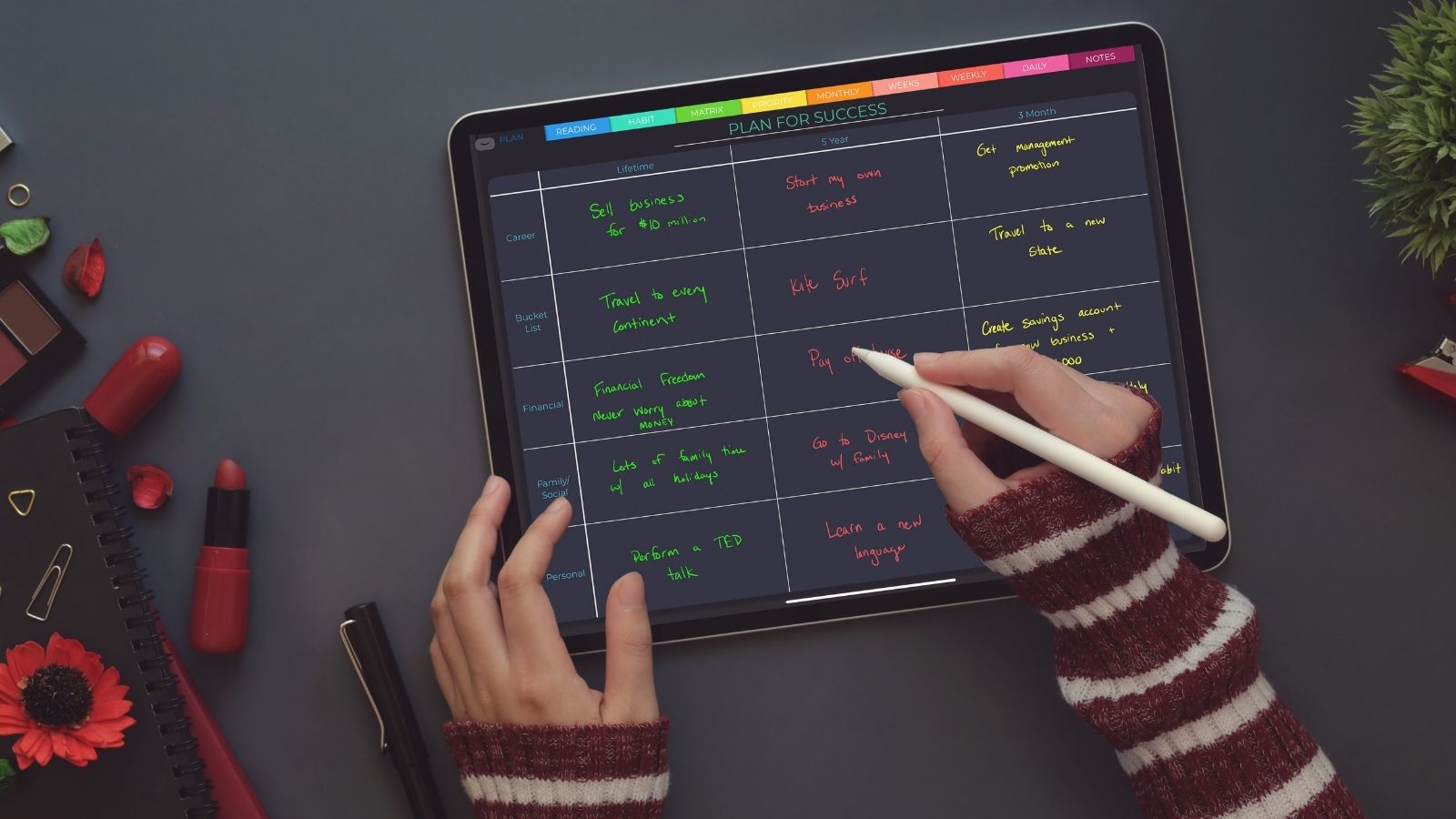 Does money play a factor in your life? If yes, you need to use the budget digital planner.
From managing daily transactions, planned monthly budget, savings tracker, debt payments, and more, you'll have complete control of your personal finances.
Digital Budget Planner Sections
Goals
Monthly budget layout
Transaction activity
Debt repayment tracking
Savings tracking
Wishlist planner
Credit history
Yearly summary
Notes
If health and fitness are important to you, this will cover ever aspect.
From meal planning, daily workouts, and progress tracker, you'll be able to plan and track your entire fitness journey.
Digital Fitness Planner Sections
Goals
Monthly calendar
Calorie and fitness log
Workout log
Habit tracking
Daily food log
Meal planner
Grocery list
Intermittent fasting tracking
Weight loss progress
Track water intake
Start digital planning on your iPad today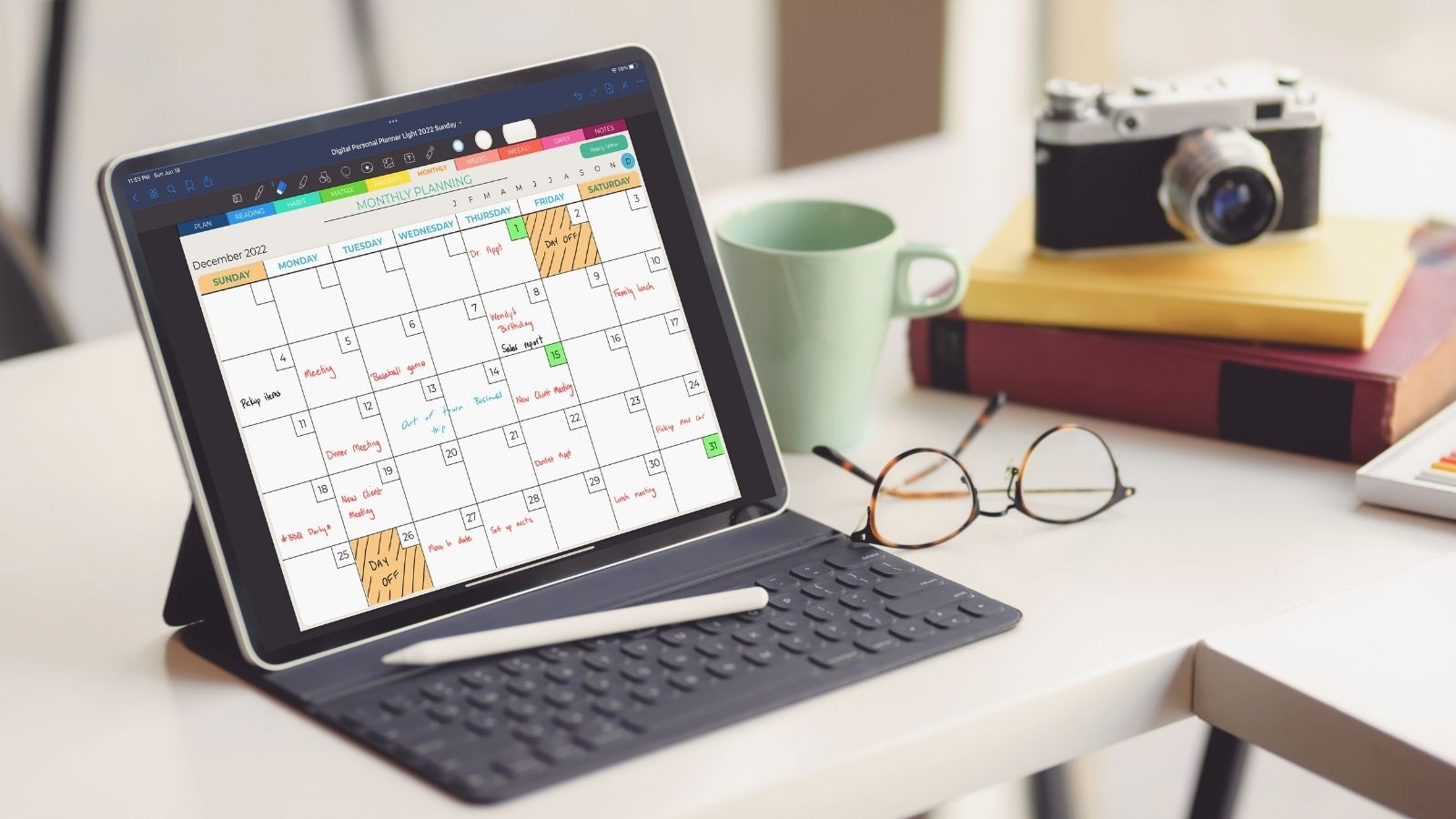 Nothing to it but to do it now.
If you wanted to start with the free digital planner, you can get your download right now. Once you try it, you're going to see how great digital planning is.
Our digital planners are full of great tools and layouts to help you get organized and figure out what your life goals are.
If you're currently a paper planner user, you'll enjoy the new features digital planners offer. If you don't use any kind of personal planner, you'll wish you started sooner.