Digital Gratitude Journal
---
---
Digital Gratitude PDF Journal for GoodNotes, ZoomNotes, Xodo, and more
Regular gratitude journaling has been shown to result in 5% to 15% increases in optimism and 25% increased sleep quality.
Keeping a gratitude journal is a great way to strengthen your mental well-being. There have been numerous studies on the subject and time after time it has been shown to increase happiness and positive mood, decrease the likelihood of burnouts, better physical health, better sleep, less fatigue, and more.
It only takes 5 minutes a day to fill out the daily gratitude section but as you can see, the number of benefits is well worth it.
Our gratitude journal is ready to help you for an entire year. The journal is broken up by month. In each month, you have a daily gratitude page along with an additional blank page for additional writing.
You also have a section to jot down some things at the beginning of the year and after the year is over. Throughout the year, you can keep a nice visual to track your mood throughout the year.
We wanted to keep it simple.
Gratitude is something that many people dismiss, they act like it's a waste of time or unnecessary but with how easy we make it, and how huge the benefits are, it's a no-brainer.
If you're not doing it now, it's time to add a gratitude journal to your arsenal and take yourself to the next level. A gratitude journal is the ultimate, highest ROI, investment in yourself that you can make.
Achieve your goals with 3 easy steps
Download Your New Planner
Open it with Your Annotation App of Choice *app not included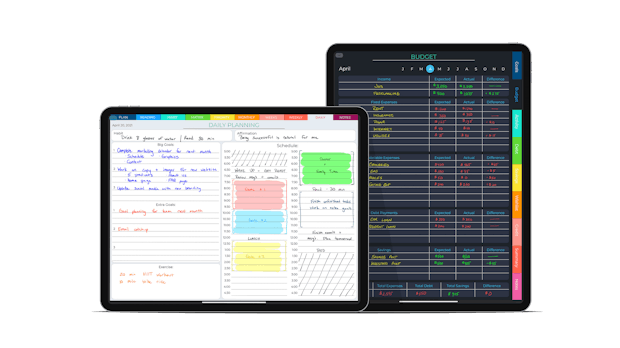 Save up to 30%
Bundle and save up to 30%
Most of our customers get the most benefit from multiple planners. The more you want, the more you save!
Build Bundle
How it works
If you have never heard of digital planners, that's ok, let us give you a quick tutorial. To make it simple, think pen & paper planner but on your iPad or tablet. To see a demonstration, check out the video!
Shop all digital planners