Regular price
$56.00
Sale price
$37.00
Unit price
per
Sale
Sold out
The Best Planner out there
Personal planning made easy! This stylish, efficient, and affordable daily planner is perfect for anyone who wants to create a more organized & productive life.
A helpful resource for people of any age and lifestyle, this notebook provides layout and guidance for setting goals, defining priorities, saving time & money, maintaining healthy habits, staying productive on the go, and staying in touch with loved ones.
With monthly, weekly, and daily planning templates, you can start planning today with this notebook.
Additional planning tools including a life planner, goal planner, habit tracker, reading list, Eisenhower Matrix and notes area will give your life the structure it needs.
Why do I need a paper planner?
A personal planner is a type of notebook that helps you plan your day, week, and month. It provides a space for you to write down what you need to do and when, but also allows you to make notes about how you are feeling and what's going on in your life.
Our paper planner notebooks are well designed with sections that help you be productive. It's not just a bunch of random templates to fill in, it's a planning system that helps you accomplish your goals.
A good daily planner will help you with more than just keep track of to dos, it'll help with proper goal setting and different priorities.
This will be the one notebook you want to carry with you wherever you go.
How is the daily planner setup?
We've included all of the sections that you need to be as productive as possible while keeping it simple.
Life Planner (Plan for Success)
Reading List
Habit Tracker
Eisenhower Matrix
Priority Planner
Monthly Planning
Weekly Planning (2 sections)
Daily Planning
Notes
What is the planning system?

At it's core, this is a daily planner. It puts its focus on helping you with day to day planning.
In order to be an effective daily planner, you have to look at the big picture. You have to know some of your bigger goals.
That is why the first section helps you create your big picture goals, your life goals? What do you want to accomplish?
Once you have your big goals, you can figure out your smaller goals. Using the monthly calendar, you can determine your monthly goals to reach the bigger goals.
You then do this with your weekly goals as well, followed by the daily goals.
As you can see, the small goals are based on the larger goals because smaller goals are easier to accomplish and when you start accomplishing them, they snowball into the bigger ones.
In addition to the main system, you'll have other productivity tools to help you be even more efficient.
You'll actually have room for notes
How many daily planners have you used that didn't have enough space for notes? Sure, they have to do lists, but no notes pages. That was something we wanted to change.
The daily planning section is all two pages with one side being 80% blank for notes. The blank pages in the daily section allow you the necessary space to write day to day notes. 
Need to jot something down? You can...
Need to draw something? You can...
Need to create to do lists? That too...
The blank section allows you to do whatever you want, almost giving you a customizable planner.
More than just a to do list
If you've written a to do list on a blank paper, you know that it can be pointless.
Sure, maybe you remember to get all of your groceries but how much do they help you in your life?
We take your to do lists and blow them up into a full-out plan. That is what makes you successful.
When you have a plan to reach your bigger life goals, your to do lists will become more selective. You'll only focus on tasks that help you reach the bigger picture.
At this point, your life is going to change for the better. So ditch the old to do lists and upgrade to a full plan.
While our Compact Daily Planner offers three months of planning, the Ultimate Personal Planner provides 6 months of planning.
Don't worry, we include a few extra blank months and weeks encase you pause using the planner and return in a new month.
The little things that count
Sometimes, it's the little things that count and we tried to include a few of those details for you.
First, you have 3 ribbon bookmarks to hold your place in the important sections. Whether you want to hold the daily page, weekly, and monthly, you can do it with no problem.
We also included a small pocket in the back to hold any loose paper you have so they don't fall out.
Your pen? Just secure it in the pen holder on the side of the notebook. Now you won't lose it.
Quality paper is a must, that is why we made sure to put high quality paper that is fountain pen friendly.
Finally, there is an elastic strap to go around the notebook to keep it from accidentally opening. Ever had a notebook fall, open, and fold the pages or get them dirty? Not with this one.
A wide range of uses
Use it for personal use, professional, use as a student planner, or even for meal planning.
You can use it to track projects, daily planner, form a new habit, set deadlines, and create to dos.
There are literally an unlimited number of uses for this journal because we don't want to limit you.
More ways to use it:
Organize daily tasks
Create daily schedule
Take meeting notes
Form to do list
Daily life reflection
Evaluate personal goals
Track important dates
Remember due dates
Form a daily plan
The purpose of this notebook is to help you accomplish your long term goals no matter what they may be.
Are you ready to change your life today?
You want a better life and one of the easiest ways to do that is with a good planner.
Having a plan, no matter what it is for, will help you accomplish your goals and achieve what you want.
We took the notebook one step further and created a system that makes it more effective. We want to see you accomplish everything you want in life and we're positive you'll see improvements that you love.
As you can see, there are several colors and designs to choose from, the Ultimate Planner is a great option to help you get organized.
Make your daily life a breeze starting today!
*We're liquidating all paper notebooks
We've recently decided to liquidate our paper notebook supply. With changes in the world and economy, along with our business, we're putting our focus on the digital side of our business.
With that, we are getting rid of the remaining inventory we have. All paper notebooks are marked down and all sales are final. We do not accept refunds but in the event that your notebook arrives damaged, please contact our support team with a picture of the damaged product and we will ship out a replacement at no charge to you.
Planner Specs

6 months of planning
Spiral Planners:
11.125" x 8.75" (10.125" with spiral)
PU and Cloth Planners:
11" x 8.5"
Refund Policy

We are liquidating our paper planners and all sales are final. If you purchase a paper planner and it is damaged or defective, please contact our support team to have it replaced.

Please feel free to contact us with any questions or concerns prior to your purchase.
Share
View full details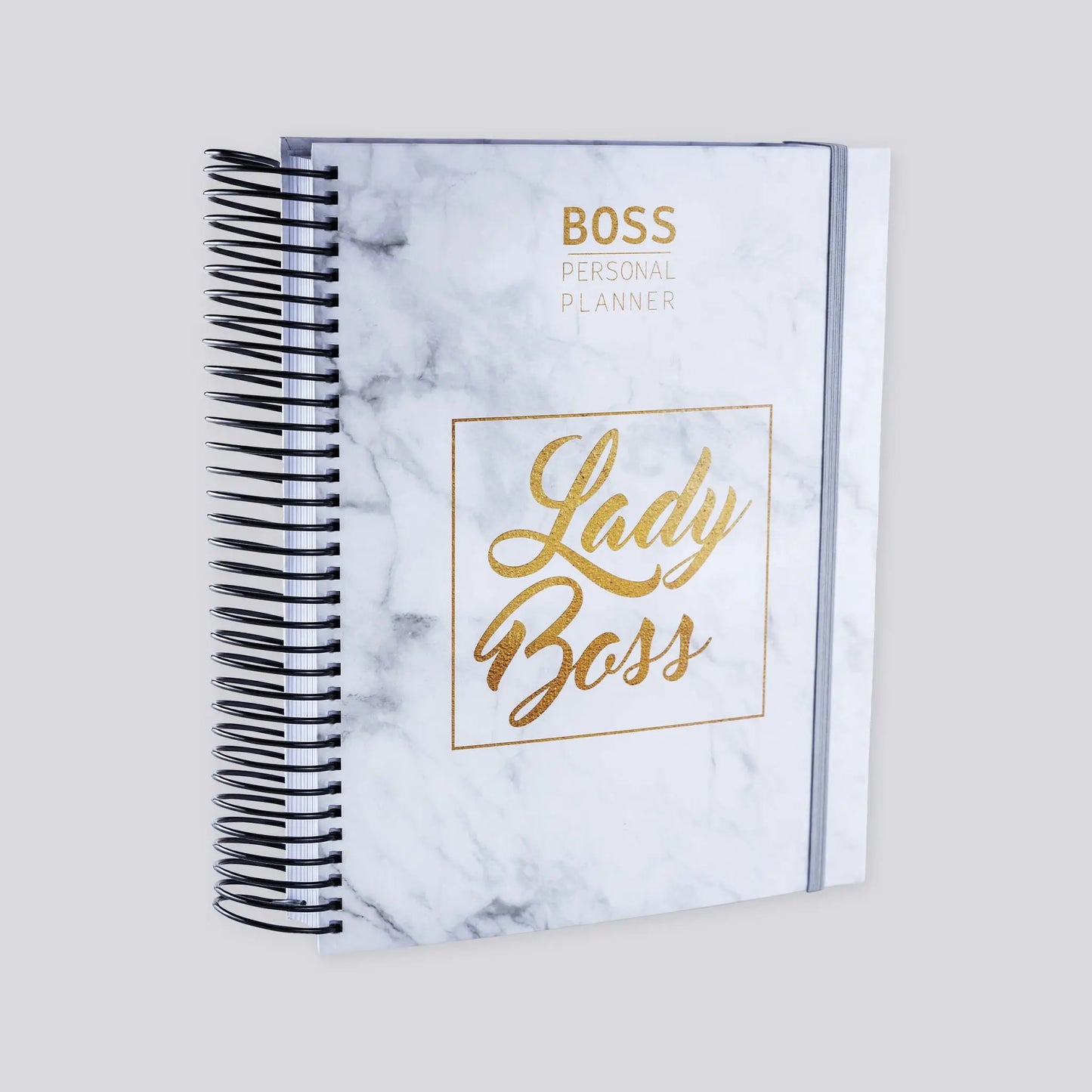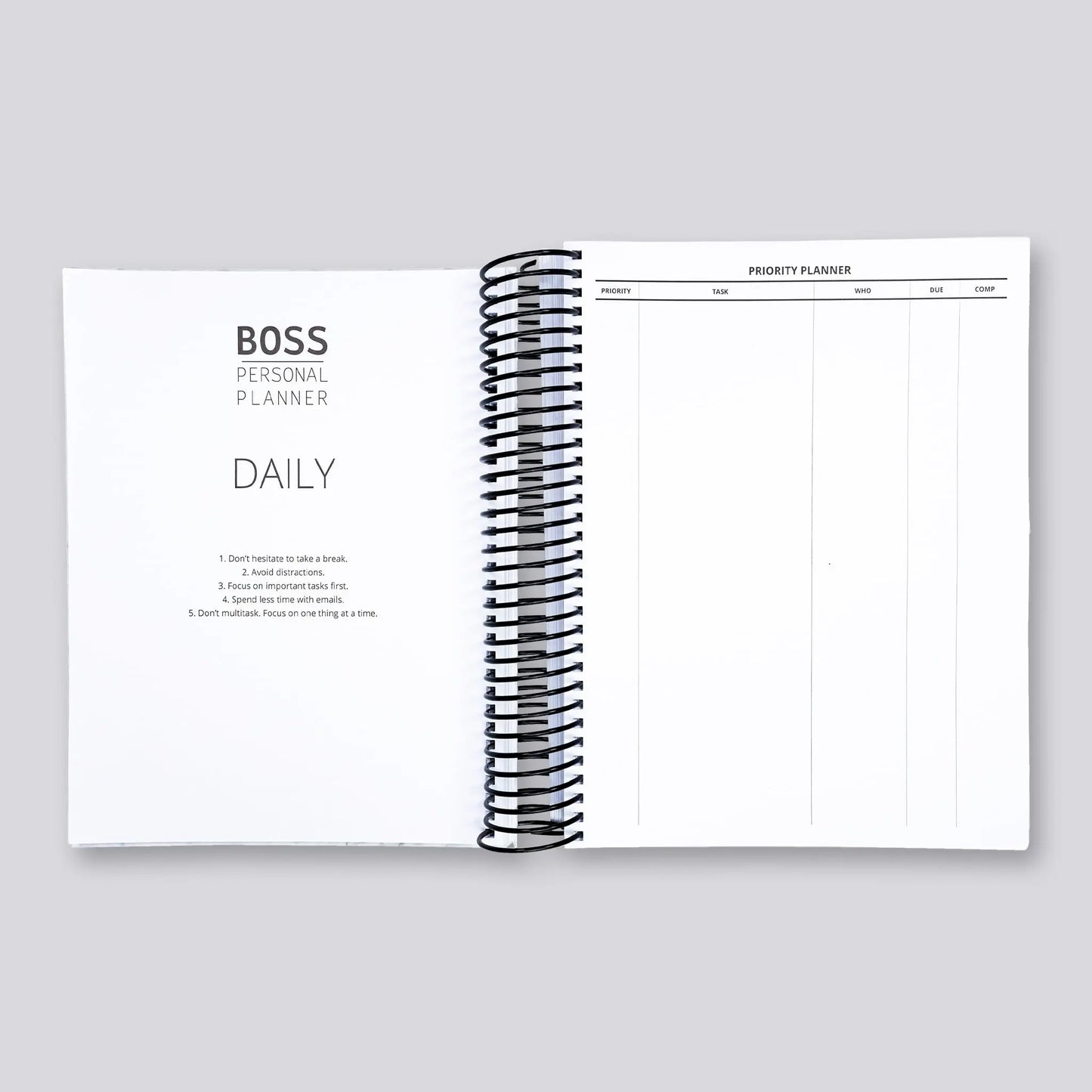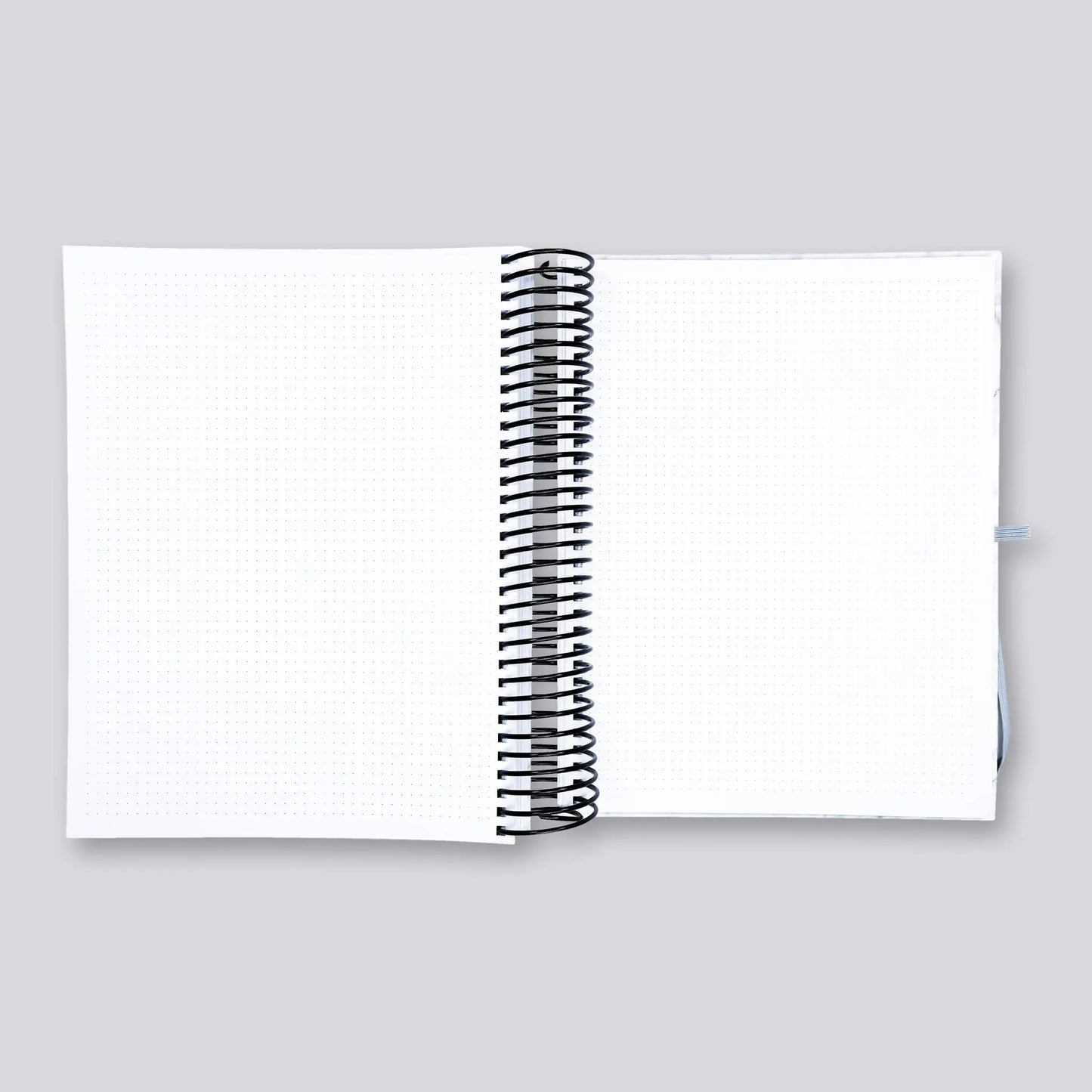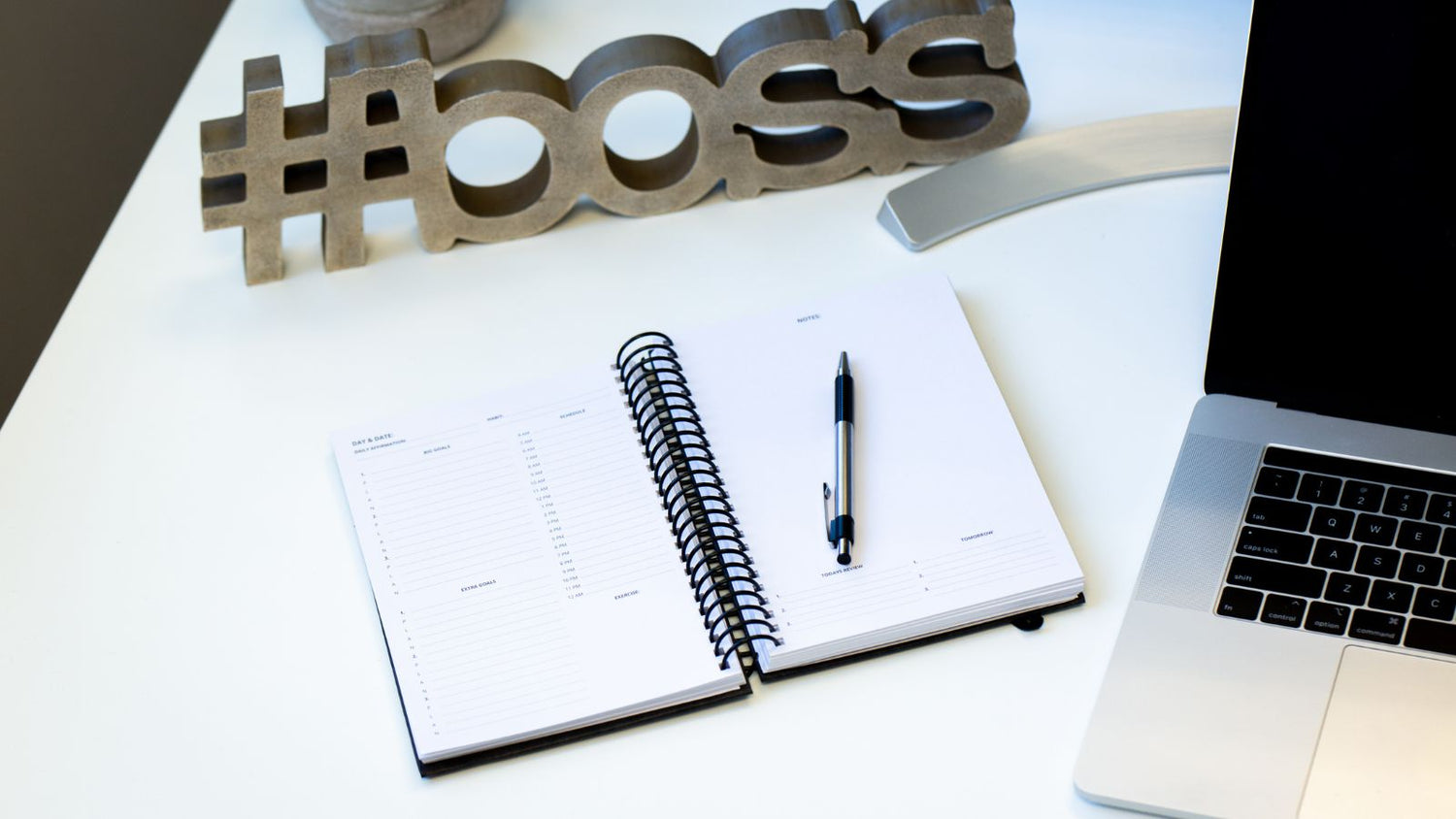 Better Time Management
Stay organized and manage your goals and tasks more effectively. Good planning is the key to good time management. The Boss Personal Planner includes everything you need to be a better planner.